| | |
| --- | --- |
| Posted on February 17, 2009 at 8:36 PM | |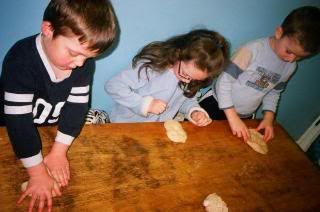 After Halloween, we celebrated All Souls Day on November 1, learning about the Mexican holiday known as The Day of The Dead.  We made pain de los muertos, or 'bread of the dead' -- little loaves shaped like skulls, sprinkled with cinnamon sugar.  We read some wonderful picture books about the way this holiday is celebrated in Mexico, including Clatter Bash: A Day of the Dead Celebration by Richard Keep and Ghost Wings, by Barbara M. Joose.  These books introduced us to ideas of remembering and honoring loved ones who have passed away, which helped us learn about Remembrance Day.  We also learned about the monarch butterflies and their annual return to Mexico and did a butterfly craft.
We continued learning about Mexico for most of the month.  We made corn tortillas and read a folk tale called The First Tortilla, by Rudofo Anaya, about how the gods gave corn to the Mexican people.  My daughter, who is learning Spanish in school, read the story to us in Spanish as well as English. The dayhome children acted out this story with dollhouse dolls, animal models, a play forest and mountain:
We shelled the dried kernels off the corn cobs we grew in the garden and used real corn in our play to represent the gift of food.  (We fed most of the corn to the dayhome pet, Riddle the hamster).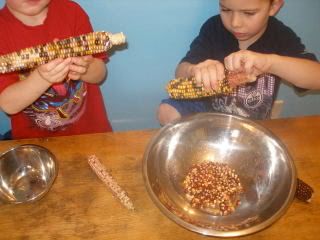 We made cornhusk dolls with the husks from the stalks, just as children used to long before they had toy stores. We also read an Aztec story about how music was brought to the world.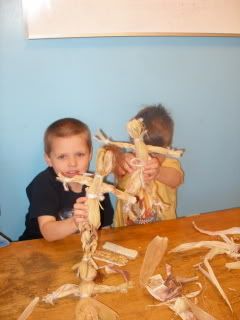 Also this month, we made a toy forest scene out of branches from our apple tree, with the tips covered in burlap to prevent pokes.  Silk scarves become leaves and we can change the colors with the seasons.