| | |
| --- | --- |
| Posted on March 4, 2008 at 4:17 PM | |
A boy in our dayhome went on vacation to Hawaii, and we took some time to look at our world map and globe and talk about where he was during his absence. We also talked about places we'd been and found them on the map, too.
When he returned, he brought a Putumayo cd of Hawaii music to share, and we started a Hawaii/ocean theme. We had pineapple and bananas for lunch and I'm trying to think of a good coconut milk recipe for Thursday...
We put rocks, shells, and ocean animals in the sensory table on a blue silk scarf, to represent water. I think the lace on the scarf looks like sea foam!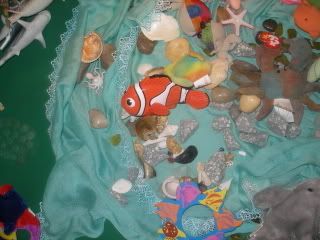 We'll play with the same objects in the water table later this week.
We also set up a fishing game on the couch, using plastic fish, rods, and an ocean theme shower curtain. It has been fun watching the boys sitting together on the couch, fishing away. They like
using the tackle box to pack their "lunch" in. I was hoping we could leave this fishing centre out all week, but we've had to clean it up because the fish kind of hurt our feet when we step on them.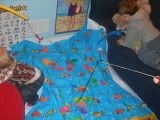 We also danced the hula, and when we were finished, used the grass skirts to make a thatched hut on the beach. I can't take credit for this idea; I stole it from a homeschooling friend of mine! The hut didn't stay thatched for very long, because the boys kept wanting to hula some more!