We had a busy few weeks leading up to the Christmas break!
Our apple trees had a bumper crop this fall, and we used the last of the fresh apples to make some apple sauce for a snack:

Peeling apples is a favorite activity here with the toddlers and preschoolers alike.  I put the apples in the peeler and the children crank the handle to peel and slice the apples, then sort the peels into the compost and the sliced apples into the pot, ready to cook.  The two and four year old boys were especially disappointed when we finally ran out of apples.  Fortunately, we have a few cases of homemade applesauce canned and stored away, enough to last until apple time comes again!
We had the felt board out with felt letters.  The children asked me to write words on the chalkboard and they tried to find letters to copy the words on the feltboard.  The older children did a dinosaur felt board theme, based on a song we made up, called the `12 Dinosaurs of Christmas.'  This project was specially requested by the dayhome 5-year-old, who loves dinosaurs!  He "graduated" from the dayhome after Christmas, to spend more time at home with his new baby sister.  We miss you!
The toddlers helped me make some Christmas soaps, and we also made ground cherry and pineapple preserves out of the fruit we picked back in the early fall. Then we wrapped our presents for our parents -- one little guy wrapped his gift with lots of black hockey tape.
We attended the Family Day Home Agency Christmas party at MIllennium Place again this year.  The boys really enjoyed the indoor playground after a couple of weeks of bitterly cold weather
.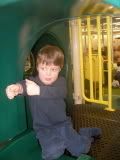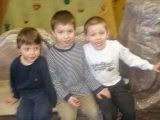 We had a couple of dayhome parents attend the event to enjoy it with their children.  
The agency served a healthy lunch in the party room and then we decorated cookies: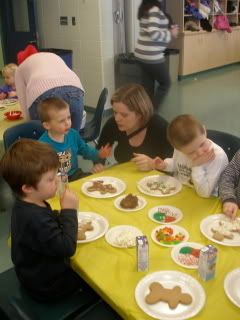 The boys were not one bit  shy of the special visitor in the red suit!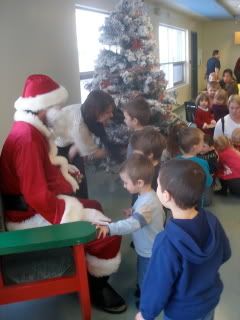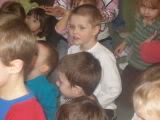 Each boy received a special book that we enjoyed reading together  when we got home.
We got out the puppet theatre kit for our Learning Tower and had some fun acting out the stories, too!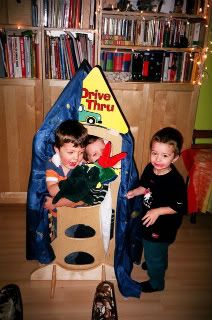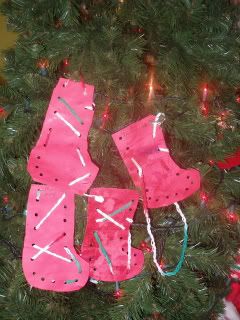 We made lacing cards shaped like stockings, a craft idea we got from a friend who runs a wonderful dayhome in Edmonton
 Thanks for the suggestion, Jen!